The Health Pop-Up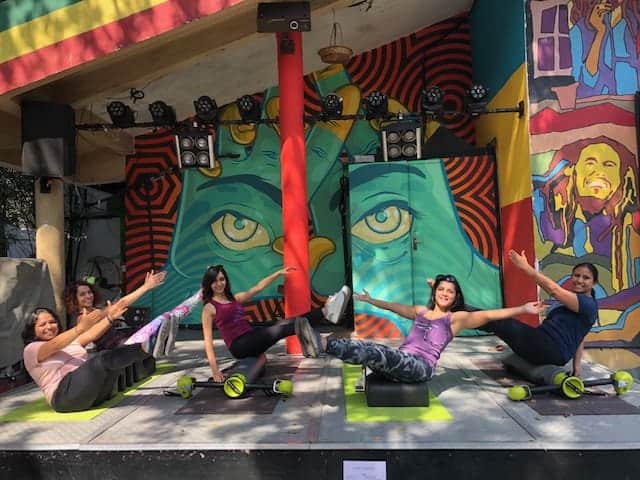 It is popular knowledge that our physical and mental well-being is intrinsically linked to our environment. With young leaders like Greta Thunberg taking the lead and organising Strikes for Climate Change, we, at Moushu's Pilates decided to contribute to environmental awareness in our small way. On 31st January, 2020, we held our annual Health Pop-Up on the theme of environmental health.
In the hub of Pune city, Koregaon Park, the popular hang-out High Spirits transformed in the daytime to a vibrant venue for our visitors, who came from across the city to participate in the exhibition. When we announced this initiative, a number of NGOs showed interest in showcasing their products made by mentally challenged and underprivileged members of our society. We were proud to include these as a way for all members of society to get an equal opportunity towards contributing to the sustainability and betterment of our environment. Another essential part of the pop-up was a waste collection drive for electronic and cloth waste.
There was an array of stalls at the pop-up, ranging from Bach flower therapy, nutritional guidance and psychological counselling to stalls selling sanitary hygiene products, upcycled goodies and eco-friendly products made of Bamboo, banana fibre, etc.
LITTLE OWLETTES COSMETICS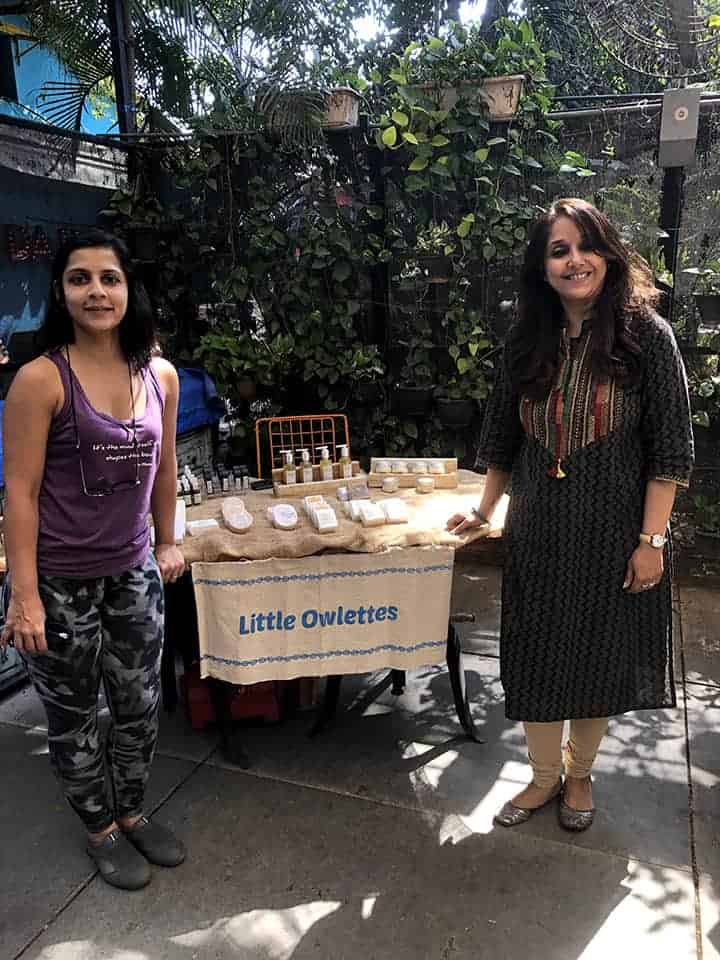 A brand of artisanal hand-crafted skincare products, Little Owlettes has been associated with Moushu's Pilates' Health Pop-Up since a few years now. Homegrown by Mrs Aparna Tilak Pingale, they make soaps, body scrubs, facewashes, lipsticks, body butters and many more cosmetics, body and bath products. All the raw ingredients are locally sourced. Little Owlettes' products are made using combinations of cold-pressed and essential oils along with other herbs and natural ingredients. One of their bestselling and unique product is their vegan lipstick. Their range of beauty and bath products are not only soft on the skin but also completely safe for our environment, unlike the harsh chemical products which get into the water system from our bathrooms.
Find them here: https://www.facebook.com/LittleOwlettesCosmetics/
BACH FLOWER HEALING BY AMRRITTA DOLWANI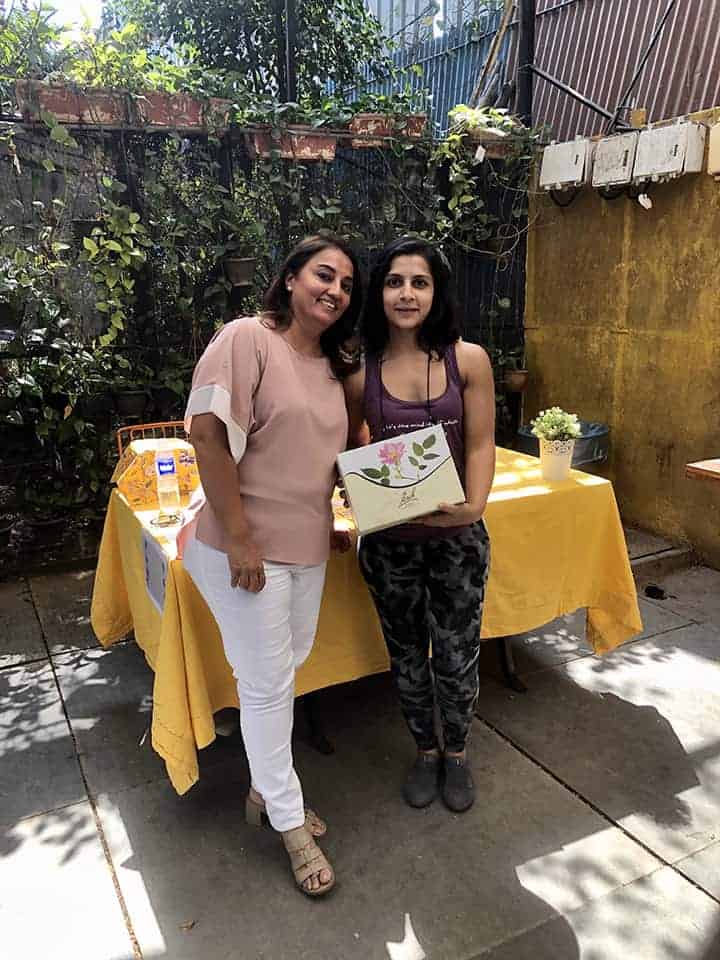 Amrritta Dolwani came all the way from Mumbai for a day to join the Moushu's Pilates Health Pop-Up. As a certified Counsellor and Bach Flower Healer, Amrritta brought with her the expertise of alternative healing and natural remedies. Bach Flower remedies, discovered by Edward Bach in the 1930s, use the healing powers of wildflowers and are believed to restore the balance between mind and body vibrationally. Amrritta gave personal consultations and prepared custom remedies for each client. The remedy for the same ailment differs from person to person as Bach Flower Healing deals with the emotions of the person. Natural alternative remedies like these help with our mental and thus, overall well-being.
Find her here: https://instagram.com/amrrittadolwani?igshid=13lcqclyk9lzy
NESARA BY NICKY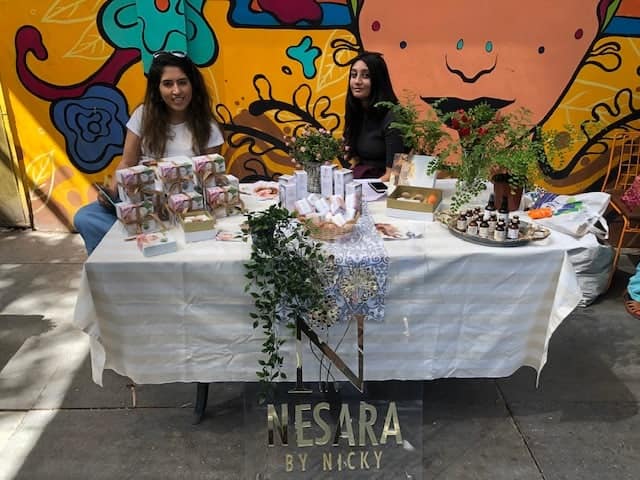 Nesara by Nicky is known for its 100% vegan and cruelty-free beauty products. Luxurious soaps, facewashes, lotions, sunscreens and many more skincare products have been developed by Nicky Lamba for her brand and were available for sale at Moushu's Pilates Health Pop-Up. Since they use only organic, natural ingredients, their products are perfect for a gently cleansing daily routine to boost the health of your skin. All products have been personally tested by the founder and she brings the best forth for her customers.
Find the products here: https://nesarabynicky.com/
JUVENATE WELLBEING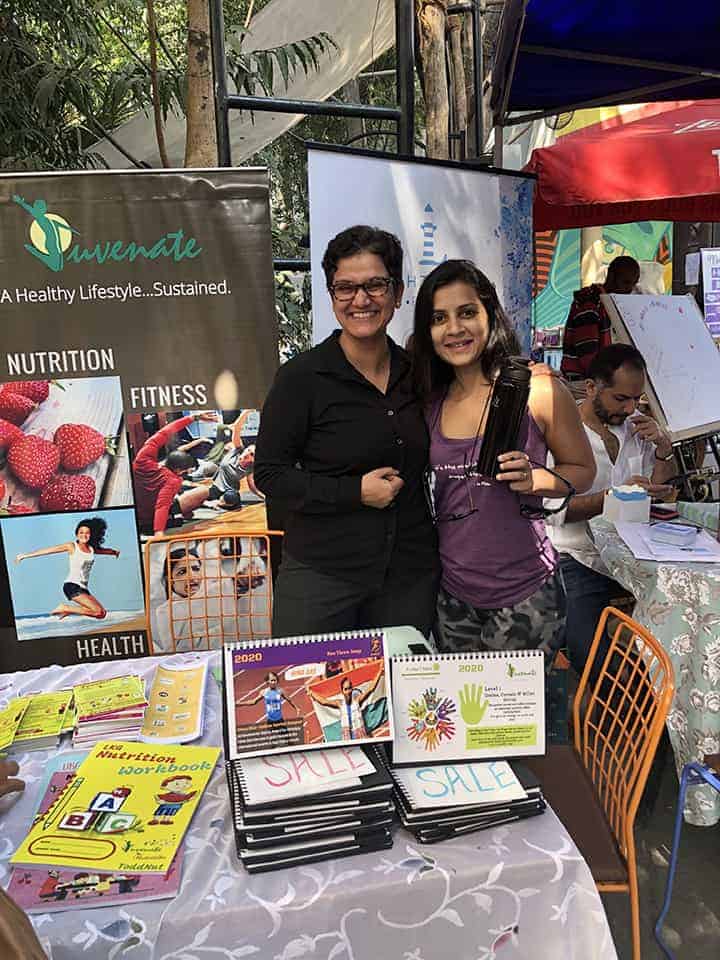 Gauri Shingote, our in-house nutritionist and professional dietician, introduced our visitors to Juvenate Wellbeing. Along with one-on-one consultations, Juvenate Wellbeing had Nutritional education-based activity books for children on sale. Inculcating healthy eating habits and nutritional awareness in children from a young age is part of Juvenate's many programmes. Our health is dependent on what we eat. Additionally, our food also has a carbon footprint. Healthy food choices and eating local, seasonal produce helps the environment as well as our fitness levels. Using their expertise, Juvenate encourages people to eat right to prevent illnesses rather than expend energy later in curing them.
Connect with them here: https://www.juvenatewellbeing.org/
ARAATRIKA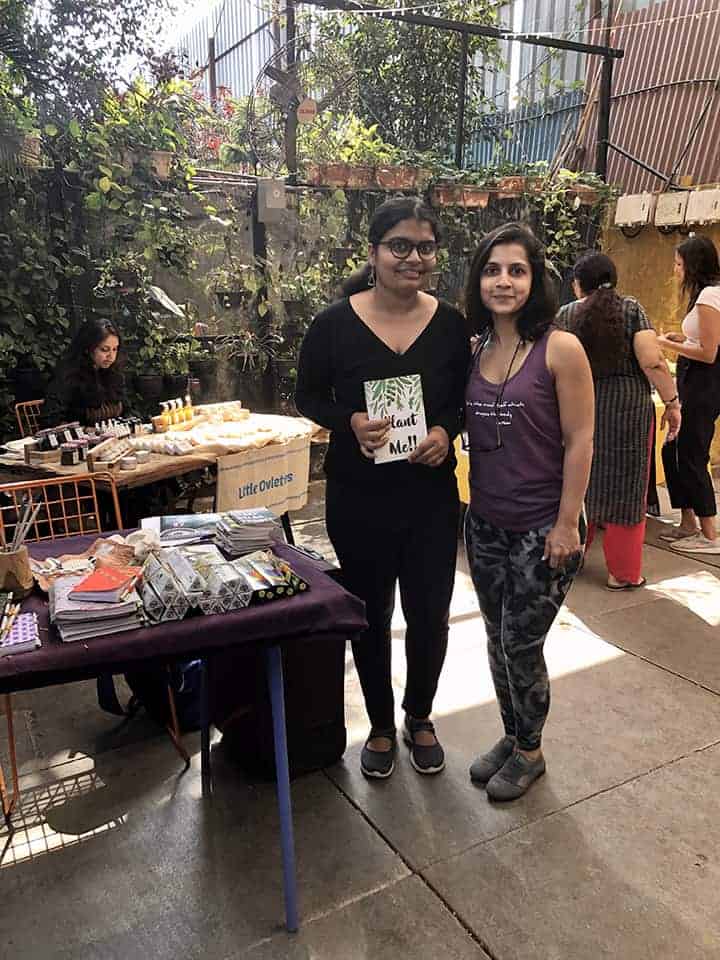 Araatrika is a social enterprise. Its Happy Pencil website is a one stop online gift store for eco-friendly productsin India. They sell sustainable office supplies, home décor and stationery. Their products are recycled, upcycled and sustainable. They have been featured in various publications and even at Maharashtra Start-up week. They had their range of plastic-free and zero-waste gifts available at the Pop-up.
Check them out on: https://www.happypencils.in/
LIGHTHOUSE BY MEERA ASRANI MEHTA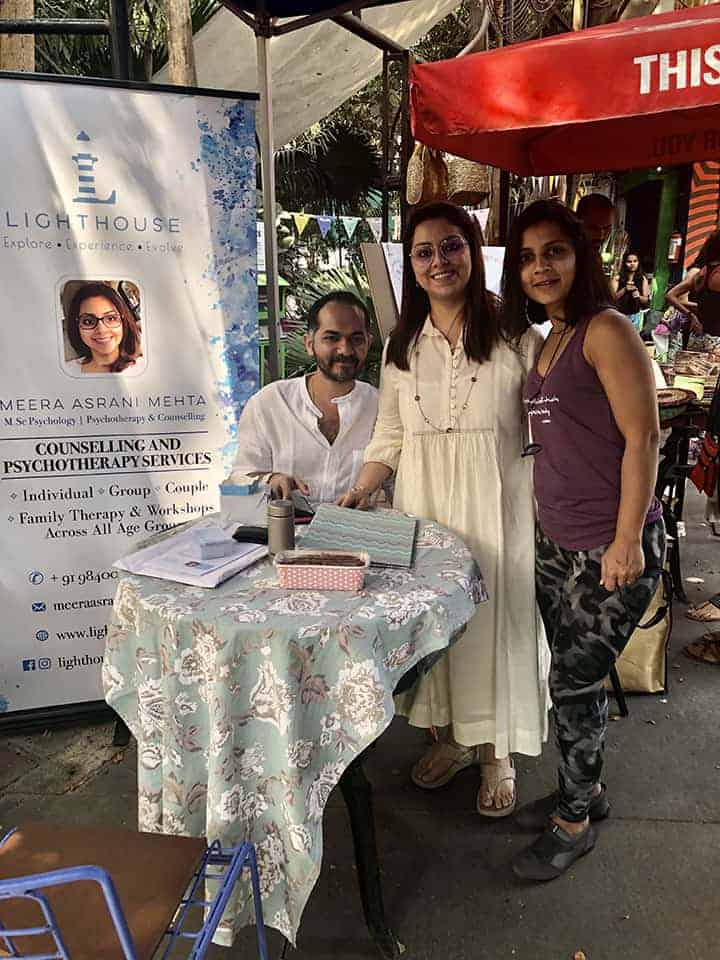 Lighthouse by Meera Asrani Mehta provides counselling and psychotherapy services. At Moushu's Pilates Health Pop-Up, Meera was giving free consultations to people looking for guidance and therapy. She had also set up a Kindness Board at her stall asking people to draw or write what they understood by Kindness. This board became a starting point for many conversations and made every visitor ponder. Meera's own calm and kind nature drew many visitors to open up and talk about their mental health. There is no doubt that the stress in our socio-political and physical environment affects our mental well-being. With Lighthouse, Meera and her team are spreading awareness and helping people improve their mental health.
Connect with her here: https://instagram.com/lighthouse_within_you?igshid=ypnyui7vsfbu
Email: [email protected]
SHWETA'S KETO/DIABETIC FRIENDLY DELIGHTS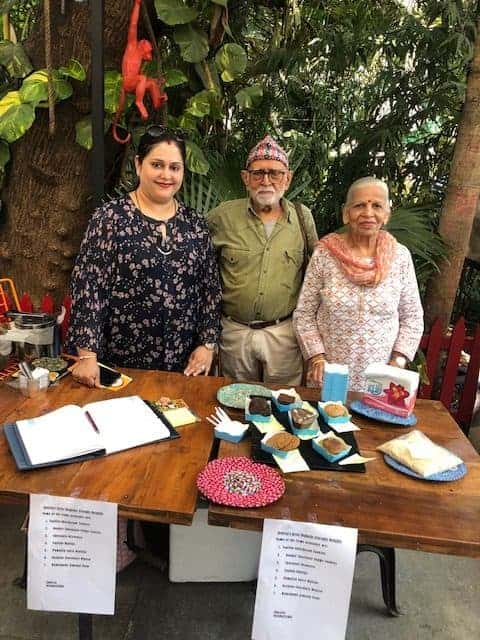 Being a parent to a Diabetic child, Shweta took up the challenge of baking goodies which her son could enjoy and not feel deprived of. Thus, Shweta developed a range of cookies, muffins, brownies and mousses for others with the same condition. Her products were a hit at our Pop-Up as the fitness enthusiasts could enjoy these delicious baked goodies guilt-free.
Place your orders on: +919930032001
SPHERULE FOUNDATION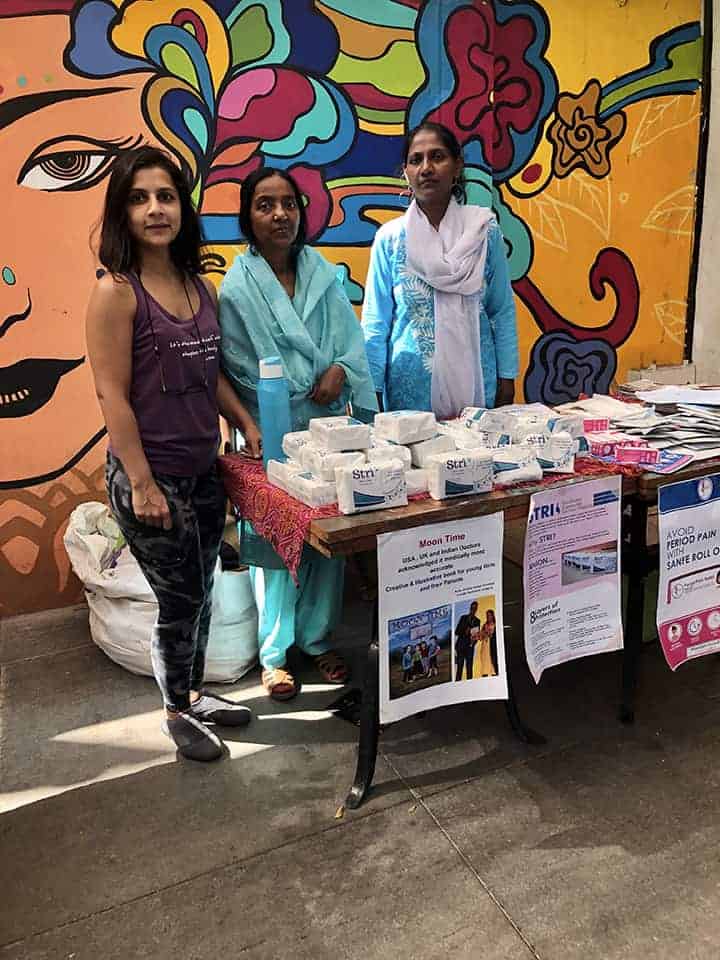 Founder & Director, Dr. Geeta Bora established Spherule Foundation to help underprivileged women by providing health and sanitation awareness along with employment opportunities. They were selling feminine hygiene products at their stall. The most remarkable of these products was an extremely affordable sanitary pad made of 100% cotton called Stri. Popular brands of sanitary napkins use non-biodegradable products which are extremely harmful for our environment. These 100% cotton pads are not only safe for the environment but also softer and more breathable, thus making it a better choice for every woman.
Find out more here: http://spherule.org/
SECLUDED TRUTH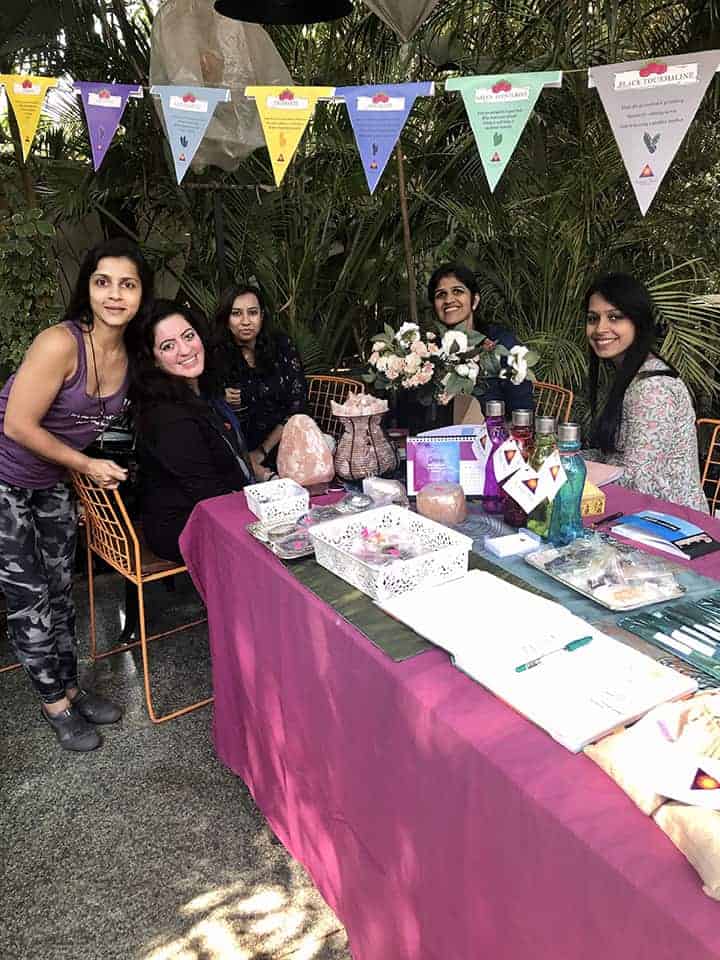 Conceptualised by Dipti Jaiswal, Secluded Truth empowers people with Chakra Therapy, Reiki, Spiritual Counselling and many more alternative therapies. At the Health Pop-Up there was a long queue to get an Aura Scan and Chakra Analysis from Dipti. She personally guided everyone on how to balance their physical and mental health with the help of positive affirmations and spiritual practices. Their stall also had an array of crystals, incense sticks, bath salts, bracelets and charged stones for sale.
Connect with them on: [email protected]
MAMMAZULU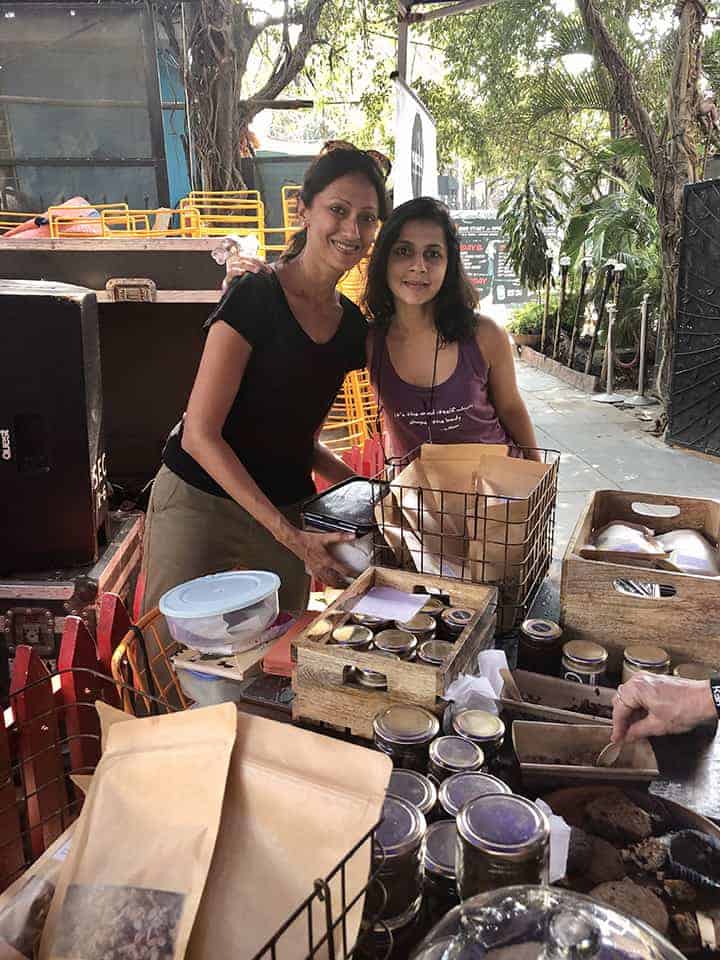 Amrita Shah's Mammazulu is a healthy food company that has grown out of a home kitchen. She makes wholesome, healthy food like granola, nut butters, cookies, cakes, etc. They use healthier alternatives to refined flour like whole wheat, oats flour, millets, almond flour and alternatives to refined white sugar like coconut sugar, jaggery, dates, cane sugar, etc. All their products are 100% vegan. Amrita developed keto, paleo and vegan options to baked goodies due to her health conditions which needed her to be extremely selective of what she eats. The aim was to ensure clean and healthy eating without compromising on taste.
Find her here: https://instagram.com/mammazulu?igshid=1t2nmrirswwih
PRAYATNA PUNE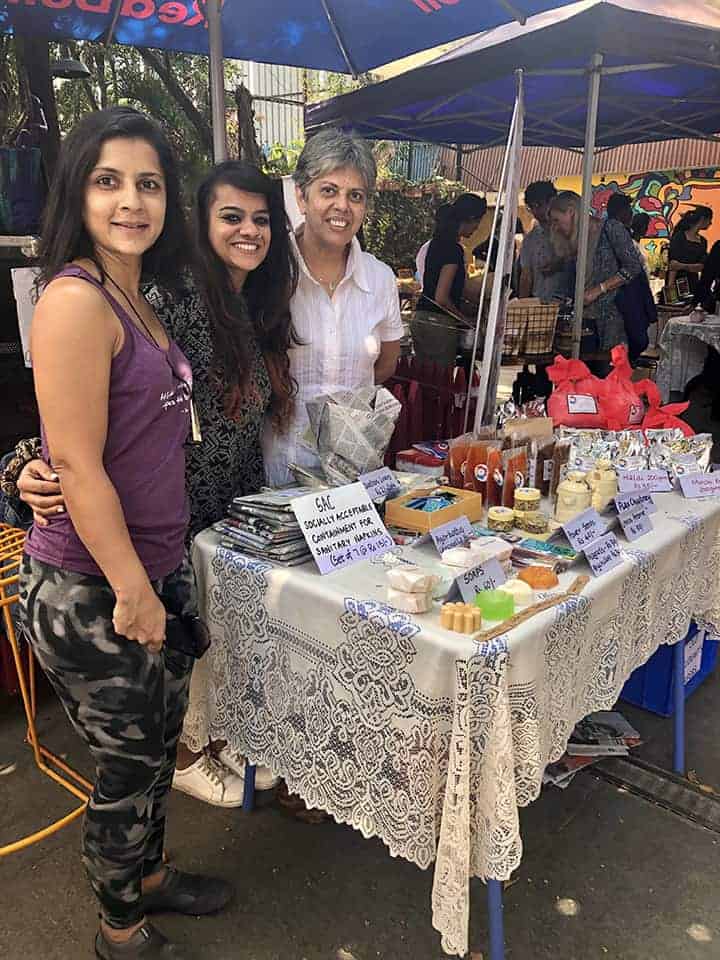 An NGO for people with special needs, Prayatna, empowers them by giving them vocational training. They organise events and activities for children with disabilities. These children's talents are honed and their creativity is showcased at various exhibitions and sales. At the Moushu's Pilates Pop-Up, they were selling keychains, fridge magnets, paper bags, soaps, pickles and many more things, all made by the disabled children. Their contribution to the special children of society is truly commendable.
Connect here: https://www.facebook.com/Prayatna4SpecialNeeds/
ECOEXIST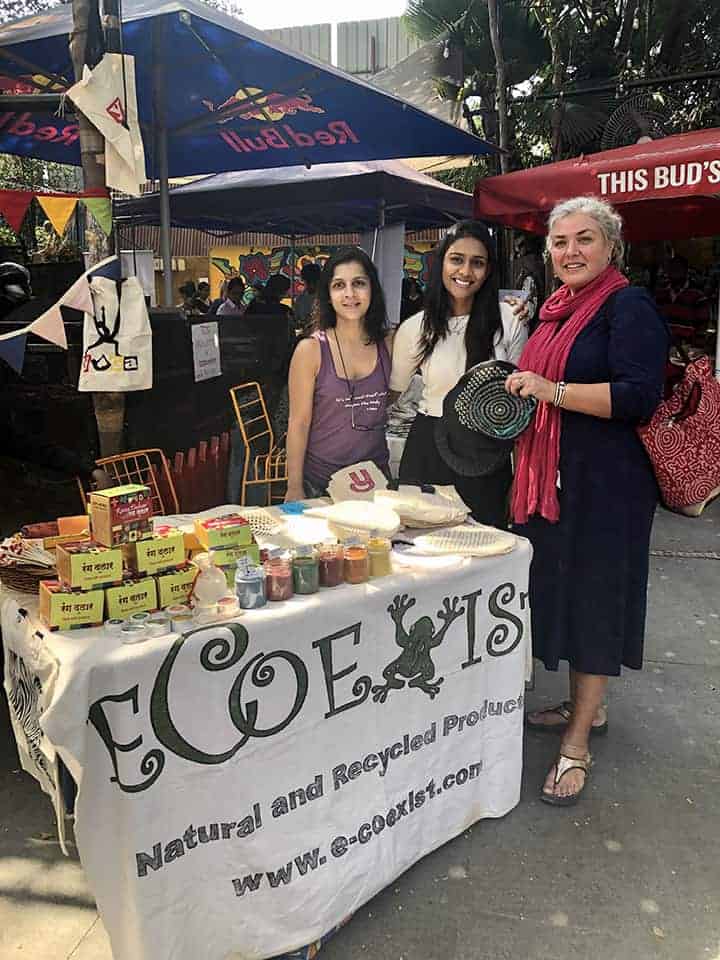 With Holi just around the corner, eCoexist had a range of organic powder colours on sale. Made from rice flour and vegetable dyes, these colours are safe for our skin and also environment friendly. They also had cotton bowl covers and reusable fabric bags on sale. eCoexist promotes eco-sensitive products and lifestyles through socially sensitive means. All their products are non-polluting and provide an income to underprivileged groups. They promote upcycling and using products which can be reused, rather than use-and-throw ones which are filling up our landfills.
Check out their various initiatives here: https://www.e-coexist.com/
BAMBOO INDIA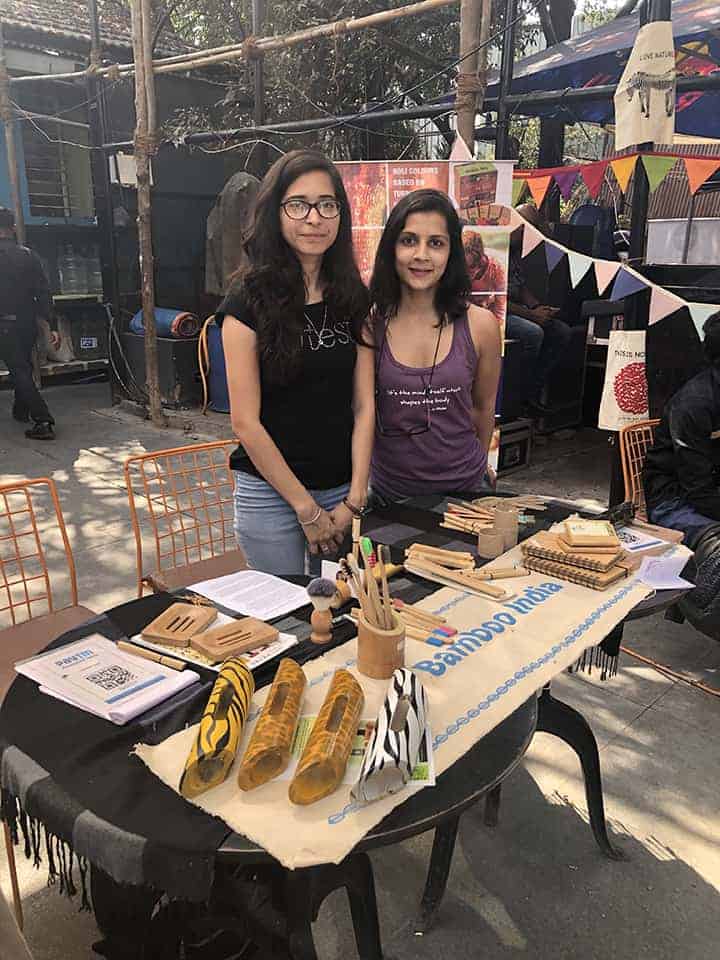 Bamboo India Mission is a start-up by Mr. Ashwin and Yogesh Shinde. Their primary aim is to change the perception of Bamboo from The Poor Man's timber to the Wise Man's timber by providing plastic product replacements using innovative Bamboo Products like Bamboo toothbrushes, Bamboo earbuds, Bamboo straws, Bamboo Combs and many more articles of daily use, which were available at our Pop-Up. They chose Bamboo as it is strong and easily available on all continents of the globe. With its three-year growth cycle and carbon sequestration, it is uniquely efficient and a responsible resource. Although Bamboo has traditionally been used throughout Asia, new treatment methods have given it a longer lifespan. Bamboo India selectively harvests from local sources and then treats it ecologically.
Check out their products on: https://www.bambooindia.com/
BAMBOO TANTRA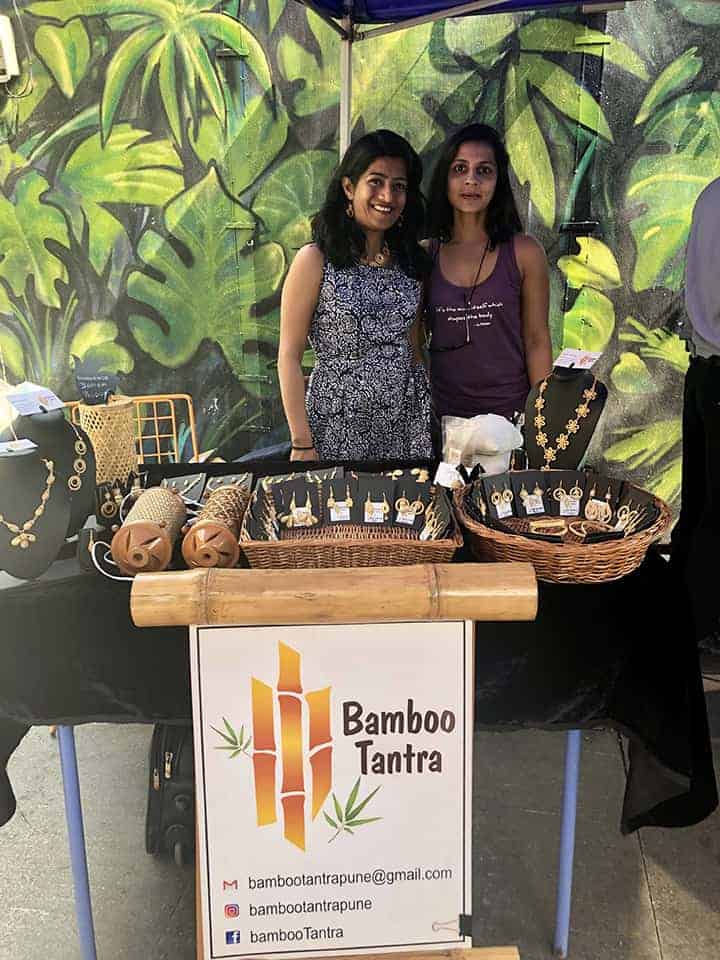 Taking Bamboo to another level, Daya Patki of Bamboo Tantra makes jewellery out of Bamboo. These eco-friendly and rustic pieces are intricately carved and beautiful to wear. She learned the skill of crafting from Bamboo in Assam where Bamboo is used extensively. Not only are these durable but also environmentally safe and one can spend guilt-free on another pair of earrings.
Check out her products at: https://www.facebook.com/bambooTantra/
MAHER
Maher is a home for destitute women, children and even men. Established by Sister Lucy in 1997 on the outskirts of Pune, it is now a UN recognised NGO. More than 4000 women and children have passed through their care. All residents get the highest quality diet, medical attention, psychiatric counselling and vocational training at Maher. At the Moushu's Pilates Pop-Up they had an array of products made by the people of Maher on sale. They believe in a life of harmony with nature and thus, their products are also eco-friendly, upcycled utility articles.
Find out more on: https://maherashram.org/
YASHPRABHA ECO AGRI PRODUCTS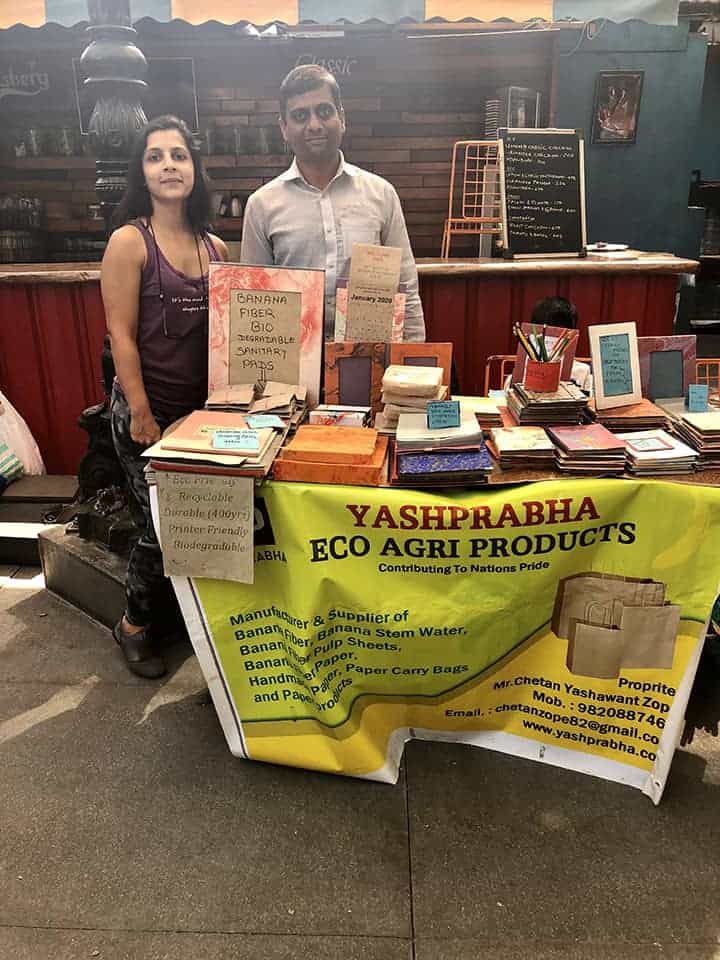 Yashprabha Eco Agri Products is a not for profit initiative by Mr. Chetan Zope of Jalgaon. They procure banana fibre from farmers and convert this into stationery. From papers and pencils to folders and diaries, their products are all made from banana fibre. The paper is not treated chemically to whiten it. They let it retain its natural colour. It is a great way to reduce deforestation for paper and also to utilise the by-products from agricultural fields. The humble man behind this effort had come with his young son, and his efforts show that the future of our planet is in our hands.
To order from them email: [email protected]
POORNAM ECOVISION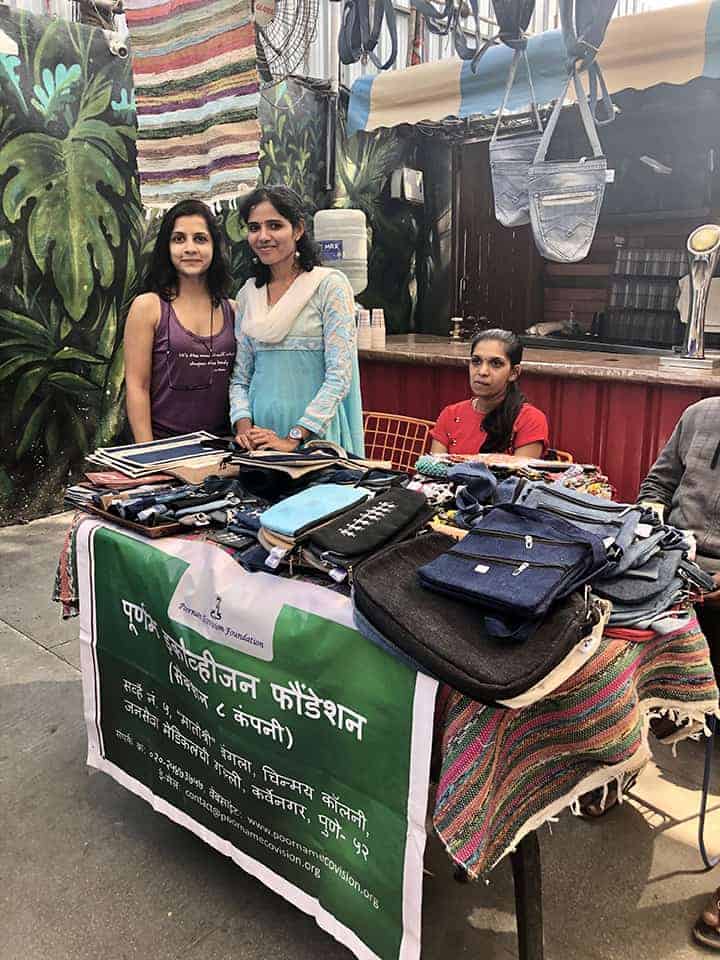 Poornam Ecovision Foundation is a social enterprise working in the field of sustainable economic development since 2012. They have taken the lead in waste management, sustainable agricultural development, renewable energy management and environmental management. They conduct e-waste and cloth collection from residential societies and commercial establishments. They upcycle the cloth waste to create bags, pouches, keychains and much more. Their work is spreading awareness throughout Pune and the country. Their holistic approach is a guiding force in the protection and preservation of our environment.
Find out more: http://poornamecovision.org/
18. ECO SERVE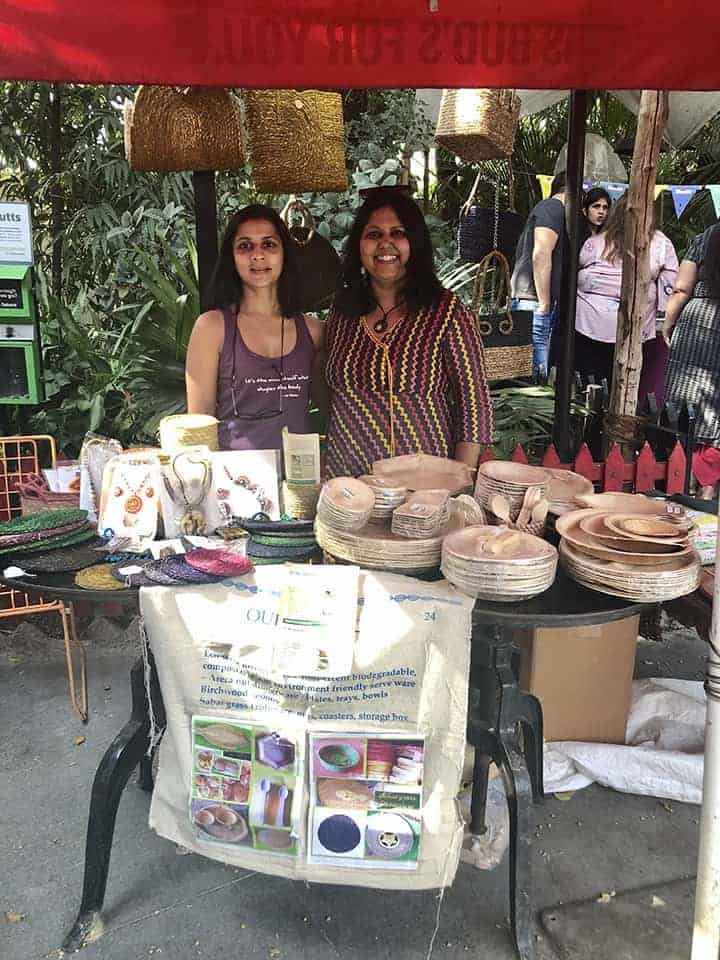 Eco-serve was born to create eco-friendly products for the household. They make elegant and lightweight tableware, utility baskets, trays, coasters, planters, gift boxes and table runners from fallen Areca nut leaves and Sabaii grass. They have taken an active part in reducing the usage of plastic in housing societies. And the best part is that their products are made by rural folks and promote the glorious handicraft industry and help in the upliftment of the tribal artisan community.
Find out more on: https://www.facebook.com/EcoServe.in/
19. MOUSHU'S PILATES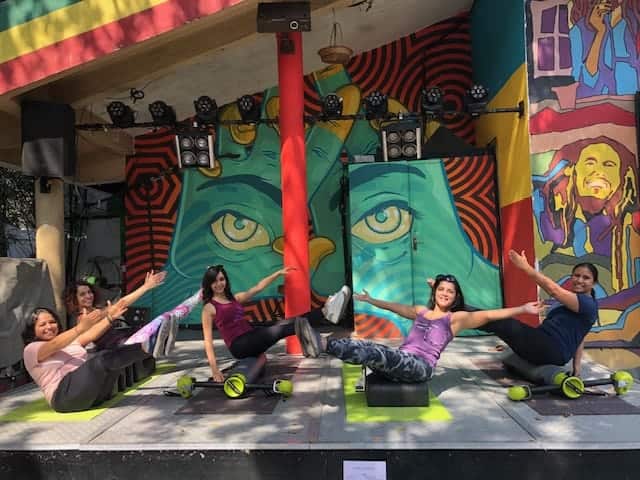 To top it all, Moushu's Pilates' equipment was on display and demo for the visitors to try out and get a feel of. Importance of physical activity, especially a workout like Pilates, truly boosts the immune system of the body and makes it stronger to deal with the challenges of the environment.
It was an eventful and rewarding day for all the stall owners and our team at Moushu's Pilates. We were so glad to have connected with so many wonderful initiatives and organisations who are working towards a sustainable and healthy future. After all, we are nothing without our environment and natural forces nourishing our lives.
Read also: Myths about arthritis
A writer and Pilates instructor by profession, and a lawyer by education, Tarannum is passionate about art, travel, fitness and food. She has been practicing Pilates for the past five years at Moushu's Pilates Studio and has experienced the transforming effects of it on her body, firsthand.